10 Fun Halloween Nail Art Ideas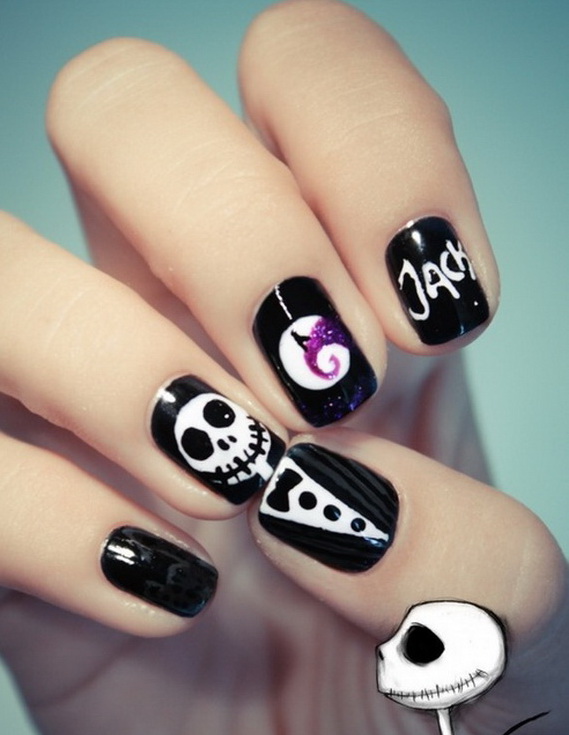 Honor the holidays with these fabulous Halloween nail art ideas. Prepare your manicure for the special event and use the most stylish hues and symbols to get yourself in the 'trick or treat' atmosphere.
Eerie images as well as strange color use are some of the most revealing qualities of a textbook style Halloween manicure. Use your creativity to surprise your friends and family with a one-of-a-kind holiday nail art.
Dark creatures and eerie images look fantastic when embedded into a traditional and fabulous Halloween nail art.
Why not adapt to the atmosphere of this holiday if you have the chance to dress up your manicure into the most stylish holiday nail trends.
Halloween Nail Art
Start early
This year start the preparations earlier and get hold of the stylish ideas on how to play up the length and polished shape of your nails with a few tricks.
The following Halloween nail art ideas get you into the groove to feel the aura of this dark ceremony of 'trick or treating'.
Use the stylish dark tones as well as metallic shades and also well known images as pumpkins, black cats and skeletons to decorate your nails with the most voguish designs using either your skills or nail stickers.
Dark and Goth romantic
There are various options to start your nail makeover with. If you are a fan of the dark and Goth romantic nail art make sure you have black and dark shades at hand.
Apply it to the base and then crown the manicure with additional cute images of bats, spiders as well as pumpkins.
Those who would like to practice their nail painting talent may choose from the numerous DIY nail designs that won't require pro skills to pull off.
Colorful and trademark design
On the other hand you might flirt with the idea of having a colorful and trademark nail design for this year?
Then make sure you expand the color palette using purple, red as well as the other metallic nail polishes and even pink to sport a more girly and eye-popping nail art.
Choose the best ideas according to your preferences as well as costume.
Remember a polished manicure can also boost the prominence of your Halloween look especially if you prepare for a fabulous party.
Black Cats and Spiders
Are you fond of the black cats, tiny spiders as well as the other elements of the rich iconography of the Halloween?
Then make sure you won't skip these stylish nail art ideas that would definitely keep you up-to-date with the latest manicure trends.
Use various shades to draw the most stylish images or rely on the power of stickers you'll find in local or specialized stores.
This holiday should be special when sporting your brand new and cute Halloween nail designs, don't just wear a scary mask and costume, flaunt your Halloween painted nails and give yourself the ultimate look. Have fun!